Temporary Living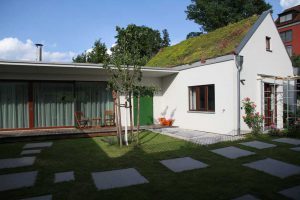 Temporary living with a modern twist
this comfortable accommodation serves flexible claims.
If you have a new job application for several months or another engagement and you don´t want to stay in an anonymous hotel room, you may instead reside in a representable home, enjoying the evenings.
You can as well just relax and make holidays for a few days…..
….this place is perfect and will fit your requirements.
You can rent the apartment for minimal 5 days or more
About 100 m² of comfortable amenities are waiting for you.
Sculptures, design, books, music  and  personal items make it individual.
There is a large living room with a dining space and a fully equipped kitchen.
Enjoy  cosiness at the chimney watching  the sparkling fire. But don´t worry, floor and panel heating is working anyway without concerning about. There is always fresh air by a ventilation system, so you don´t need to open the window when you are out.
Large sliding doors, when open, make you feel  like sitting on a balcony. From the terrasses you have a great view of the castle. A separate wardrobe-room has space enough to  stow away your luggage. Comfortable deckchairs invite you to relax on the porch.