Kallmünz and environs
Welcome to the artist village Kallmünz
The romatic village, situated at the riverside of Vils and Naab, offers atmosphere and cosyness. Oldfashioned Bavarian inns and nice little pubs invite you to stay and enjoy.
Many artists and musicians have settled  in this magic place and keep the village as a creative hot spot, since famous painters like Wassily Kandinsky and Gabriele Münter have been here in the beginning of last century.
With me it was the same, I came, saw and settled down.  My sculpture studio is next to the Bungalow, so I am close for you to watch my work and get  some  insider knowledge about Kallmünz  and art, or whatever you need to know.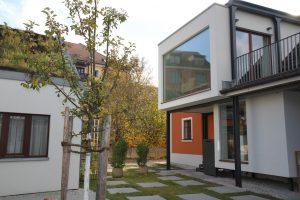 The landscape of Kallmünz is very attractive, especially a highlight for wandering. Rare plants are growing and seldom insects and animals still live here.   There are also a varity of sport facilities.
You can hike and bike, rent a canoe, paraglide or climb the rocks.
If  you want to get cultural impressions,  you visit the world-heritage-town Regensburg (25 km) or ancient towns like Amberg or Nabburg,. You can make a trip with the boat to the beautiful location monastery Weltenburg, that is situated in a  spectacular  canyon and offers a  famous beer.
You can travel to Nuremberg within an hour.